Updated: Jan 11, 2020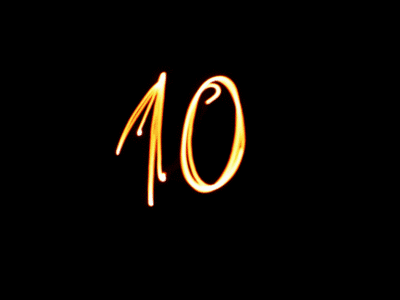 15 Sex Resolutions To Start Your 2020 Off On A *Climactic* Note
We're big fans of starting over every new year, but some things are just unrealistic. If you're anything like us, those books you promised to read will start to gather dust and the meditation app will be used maybe once. How about trying some New Year's resolutions you'll actually want to keep? Sure, they may not make for a good Facebook status (hi, mom!), but the newly-minted 2020 is as good an excuse as any to re-up your sex life and make some resolutions with your partner(s) — or yourself.
Sex resolutions are just like regular resolutions: You make them after reflecting on the past and deciding how you want things to be different in the future. There's no such thing as a "bad" sex resolution, as long as it works towards making sex more comfortable, pleasurable, and exciting for everyone involved. That could mean taking a whole new approach to the bedroom or just swapping out some toys. Even the smallest changes can lead to a world of difference, and it's never too late to try something new. The same old, same old is so 2019.
Not sure where to start? We spoke to four different experts and rounded up fifteen ideas to start your new year off with a bang (literally). 1.
Learn more about yourself.
When it comes to changing and adding to your sexual routine, it's important to start with yourself, even if you're in a relationship.
"Unexpected pleasure comes from all different places depending on who you each are, what your history is, and how you interact together," advises relationship expert April Masini.
If you haven't fully explored your body and your desires through something like masturbation or watching porn, why not take the time to practice with yourself before involving other people? 2.
Get back to the basics.
Sex can sometimes be intuitive, but there's something to be said for doing your homework. Chelsea McCain of sex shop Adult Empire recommends studying the Kama Sutra or any other position book for a reminder of the seemingly never-ending options for every type of couple and body, even if you don't think you could ever replicate them.
"Sometimes you can even discover amazing positions just by messing up the ones printed on pages," she says.
3.
Take to the sea.
Or any kind of water, really. Move from the bed to the bath (and beyond!) with toys that work on dry and wet land. McCain recommends water- and splash-proof sex toys in addition to silicone lube to keep things smooth and easy.4 OF 15


4.
Get outside of the bedroom.
"Make love in a different place at a different time," suggests Rhonda Milrad, LCSW, relationship therapist, and founder and chief relationship advisor of Relationup. A simple change in location or shaking off of your old routine makes the sex feel brand new. "And don't rule out the outdoors," Milrad adds.
5.
Take regular snack breaks.
This doesn't necessarily mean pausing mid-coitus to go and make some popcorn (although we fully support that), but instead incorporating more food into your sex.
"Hold a single [ice] cube and trace sensitive parts of [their] body," Milrad says. "Or put cream on areas where it would be stimulating to lick off."
6.
Come up with your own striptease routine.
"It can be an incredible turn on if you are able to get out of your head, lose your inhibitions, and channel your inner seductress," Milrad explains, and there's no better way to relax than through music. Whether it's a fully choreographed routine or a dance improvised in the moment, there's surely no striptease your partner won't appreciate.
7.
Act out as many fantasies as you can.
"It can involve role play, costumes, and losing yourselves in characters and scenarios," Milrad explains. Or, it can be as simple as using your imagination. Think about where your mind drifts when you're falling asleep and see how much of that you can achieve.
8.
Don't let romance fall to the wayside.
While our brains can get very "sex, sex, sex," certain intimate relationships benefit from something a little more tender. "Simply appreciating each other and showing that appreciation and value in romantic terms is rare and valuable today," says Masani.
9.
Be more open with your partner about your desires.
Something that facilitates the introduction of these new ideas into your sex routine is honest and open communication with your partner.
"Some partners will take offense and feel pressured if you surprise them with porn or something new," Masani warns. "Others will be delighted." Make sure you're putting your partner first. If you're not sure if they'd like something, just ask! Scared of offending them? "Broach it as a little something extra — not as a cure to a problem you're having in bed."
10.
See how many games you can make sexual.
There's strip poker, strip Battleship, and of course strip Twister, but adult film actress Tasha Reign's personal favorite is strip Jenga.
"Jenga has to be one of the most fun ways to spend my evening when I'm in a relationship," she says. "That is because I put a perverted spin on it and create a world where I have rewards and favors."
You can do this a variety of ways, including creating a "punishment" for the loser or writing sexy tasks and requests on the individual pieces.
11.
Invest in sexy lingerie.
As long as you're confident, any lingerie is sexy, and Reign is a big fan of saving it for special occasions. "Believe it or not, the only time I really dress up in lingerie is for work," she says. "I don't usually do that at home."
So when she decides to dress up ("stockings, garter, bra and panty, and of course heels to boot") it's for something, or someone, extremely special.
12.
Put a sexy spin on your everyday activities.
Was your resolution to clean up the house more? Do it while wearing lingerie. Practice yoga every morning? Wear lingerie. Read in the evenings? Lingerie. (See where I'm going with this?) For Reign, this means cooking dinner.
"I have picked out red, lacy, and beautiful lingerie that I intend on dressing up in," she says. She'll light candles, cook a meal for her partner, and then surprise him with her new look.
13.
Step outside of your comfort zone.
But not too far. Never do anything that doesn't make you feel good for the sake of a resolution. Rather, use this as an opportunity to experiment with something you've always been curious about but have maybe been hesitant about trying — such as bondage.
"The truth is, consent is everything, honesty is everything, and just being open with someone regarding your inner most desires shouldn't be shameful," Reign explains. "I advise hitting up your local toy store and grabbing some accessories, whips, masks, hand cuffs and just casually implementing them into your usual routine."
14.
Start an erotic novel book club.
Reading more books and getting turned on with your partner? That's killing two birds with one stone. Ideally, you and your partner would pick erotic books to read and learn from at the same time, but an erotic book club with anyone would do the trick.
"I recommend my most influential erotica pick, Sleeping Beauty: The Trilogy by Anne Rice," says Reign. "It's curious and strange in all the best ways, certainly an influence to me and millions of her fans."
And if you're looking for sexy reading that's less time-consuming, the internet is full of great erotic short stories.
15.
Schedule theme nights.
The words "schedule" and "sex" aren't necessarily the most arousing when used in the same sentence, but this is one exception. Picking a theme for each day, or even just one day a week, is a fun way to change up the routine couples can find themselves falling into.
"I have made up a minimum of a once a week oral night, where you pleasure your significant other without the expectation of [penetrative] sex," Reign says. This goes both ways, depending on what each partner is comfortable with. "Giving head can be more personal than actually having sex, so just be cordial and enthusiastic!"